East and West High School
Class of 1991
In Memory
Jennifer Waite (Kane)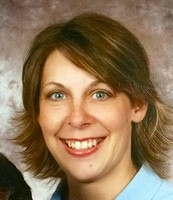 Jennifer Marie Waite-Kane
Jan. 7, 1973 — July 30, 2015
We first held you in our arms on January 7, 1973.

We understood what our purpose in life was through you and the love we felt in the words "Mom and Dad." We held your hand as you grew into a beautiful woman with a purpose in life — to give to others.

Through your mission work, your teaching and your life dedicated to youth we admired your love of the Lord and your desire to share that love.

We held your hand again as we walked you down the aisle on July 25, 1998, welcoming Eric as your husband, lover and soulmate. We held your hand as you struggled with Lyme disease for 12 years and admired your strength and courage as you embraced each battle with the words "tomorrow will be a new day." And, on July 30, 2015, we held your hand and embraced you as the Lord took that hand and wrapped you in his arms.

You were one of the new missionaries who came to the EvanjelickLyceum in Bratislava, Slovakia, and we bonded right away. We saw the evils of man together, we climbed mountains together, and we taught children together. We talked about so many things on the banks of the Danube River — love of music, books, Packers and Steelers, philosophy, God, and faith.

We returned to the states, married, and started a family together. We shared life. We shared love. Milujem­ta.

You embraced my loves and interests in the things I do most. You brought out my inner artist, shared with me your passion for music, encouraged me to try soccer despite my shy personality, and let me net all of your big ones on our fishing trips. You taught me and my friends German and you took me on the trip of my life — touring Europe, visiting your old friends, trying new foods, and blending in with the different cultures. You and Dad went to concerts with me, and we went with Dad on his work trips to the Dells. We have had some of the most beautiful experiences together, and I will treasure them all forever.

Through your struggles in health you did everything you could to be a normal mom, and instead you did something better — you were my mom. Ich leibe dich mien Schatz.

You were a great big sister: a loving protector, a worthy adversary, a leader and a family diplomat.

You showed amazing love and respect in your kindness, thoughtfulness and ability to forgive. We watched you do everything within your power to make better the lives of those around you. You will be missed immensely.

Jenn was welcomed into heaven comforted in the arms of her parents, husband and son. She will forever live in our hearts and the hearts of the many people whose lives she touched.

Jenn is survived by her parents, Jeff and Jillayne Waite of Arbor Vitae; her husband, Eric Kane, and son Zachary Kane of Arbor Vitae; brother Nathan Waite, and his fiancee Katie Leone, both of Madison; and her sister Gwendolyn and husband Tim of East Pointe, Mich.

Courage beyond words ... We loved her because she was a part of us — daughter, sister, friend, wife, mother! Jenn! Ours!

God be with you 'til we meet again. TTFN A funeral service was held at Ascension Lutheran Church on Sunday August 9, 2015.